at ontarioplaques.com
Learn a little Ontario history as told through its plaques
Pain Court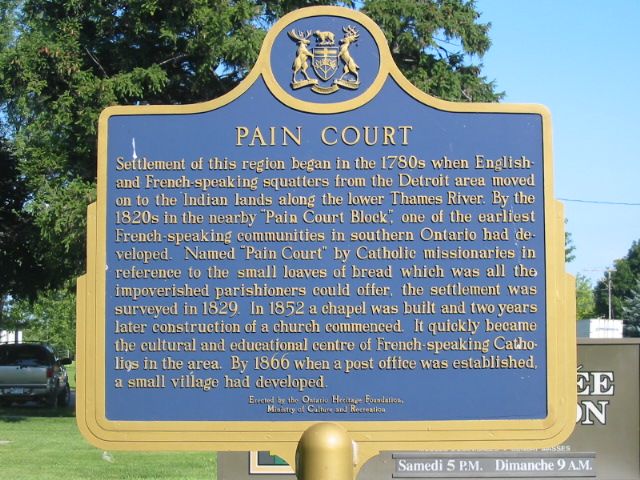 Photo by Alan L Brown - Posted August, 2004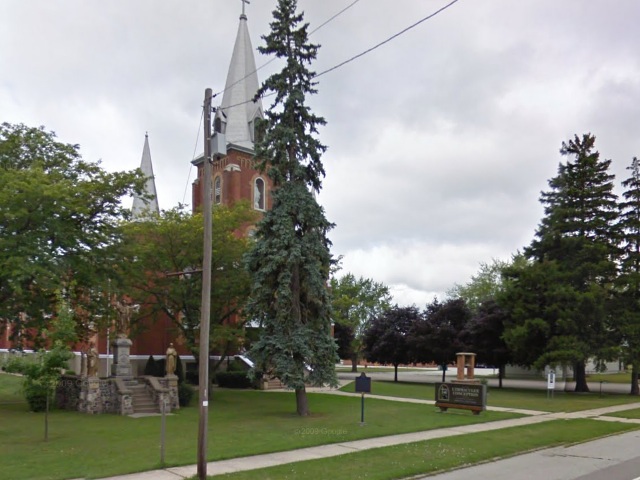 Photo from Google Street View ©2011 Google - Posted January, 2011
Plaque Location
The Municipality of Chatham-Kent
In Pain Court, on the west side of Winter Line Road (Road 34)
.5 km south of Road 35 at street number 24152
Coordinates: N 42 23.484 W 82 17.522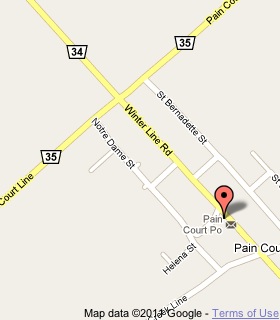 Plaque Text
Settlement of this region began in the 1780s when English and French-speaking squatters from the Detroit area moved on to the Indian lands along the lower Thames River. By the 1820s in the nearby "Pain Court Block", one of the earliest French-speaking communities in southern Ontario had developed. Named "Pain Court" by Catholic missionaries in reference to the small loaves of bread which was all the impoverished parishioners could offer, the settlement was surveyed in 1829. In 1852 a chapel was built and two years later construction of a church commenced. It quickly became the cultural and educational centre of French-speaking Catholics in the area. By 1866 when a post office was established, a small village had developed.
More
Information
More
Settlements
---
Here are the visitors' comments for this page.
> Posted July 8, 2012
I am the great great granddaughter of Francois Luc Emery (or Emeree) and Rosalie Tetreault. They are buried in the church cemetery and I visited there a few years ago. The village is very pretty. They also spent time in Grande Pointe and one of Francois' sons was Father Alfred Davide Emery. My grandmother immigrated to Detroit when she was 18.
Sincerely, Sheryl R. Picco, Tustin, CA
> Posted October 22, 2011
would anyone have the history of the central tavern in pain court ontario? thanks
gary cumming cummingg@mnsi.net
> Posted June 7, 2010
My immediate family lived in Pain Court during the late 1950's. I learned my 3rd language (French) there as a Dutch immigrant. I have fond memories. Wilhelmina Duivenvoorde Ross
> Posted December 27, 2008
I just had this huge argument with my daughter Carrie. I had been explaining to her that Dell Bolton from the movie "Jeremiah Johnson" was a USA aboriginal without a sin number. She belonged to a small Najaho band that was not recognized as "legal citizens" although her family blood ties go well back to the 1700's and beyond. She married a French actor in the movie that is seen with the natives. He too was not recognized and because he didn't speak "Pain Court French" and he spoke Parisian French it was thought that he did not have rite to be an American Citizen. "Pain Court French," said my daughter, "is just a French dialect."
"NO!", I insisted, "The French from France, said Pain Court French is slang and should not be recognized as part of the French language."
We made up several minute later. Pain Court French proves that one comes from Canadian and American bloodlines perhaps even with an aboriginal mixture of words. Have the residents of Pain Court ever thought of doing a dna search? That would be amazing. If you ever want help to write a script for a play let me know.
iris wigle-cutforth
P.S. Although you probably don't need any advice. However, I am very good at editing scripts now and then just as Graham Green.
Here's where you can write a comment for this page.
Note: If you wish to ask me a question, please use the email link in the menu.
Note: Comments are moderated. Yours will appear on this page within 24 hours
(usually much sooner).
Note: As soon as the comment is posted, a link to it will appear on the home page in the section "Here are the 10 latest plaque pages with a new comment added by a visitor to this site."