at ontarioplaques.com
Learn a little Ontario history as told through its plaques
"The Bloody Assize" 1814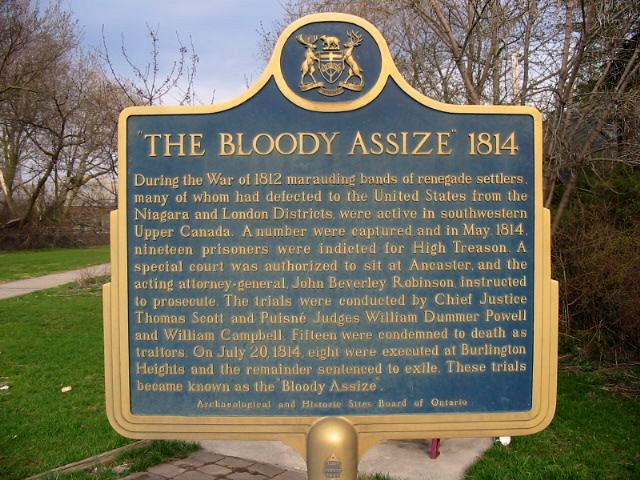 Photo by Alan L Brown - Posted April, 2004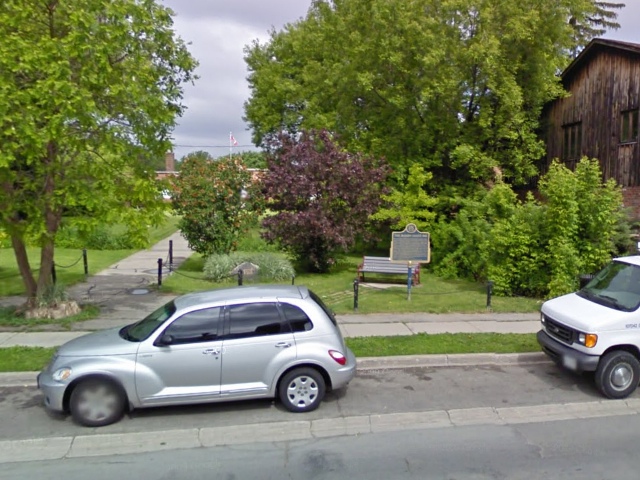 Photo from Google Street View ©2010 Google - Posted October, 2010
Plaque Location
The City of Hamilton
In Ancaster, on the north side of Wilson Street East between
Sulphur Springs Road and Rousseaux Street/Mohawk Road
Coordinates: N 43 13.638 W 79 58.570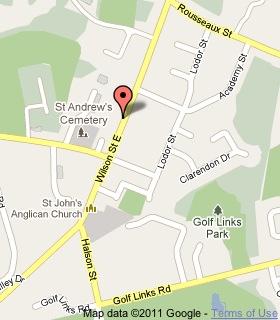 Plaque Text
During the war of 1812 marauding bands of renegade settlers, many of whom had defected to the United States from the Niagara and London Districts, were active in Southwestern Upper Canada. A number were captured, and in May, 1814, nineteen prisoners were indicted for High Treason. A special court was authorized to sit at Ancaster, and the acting attorney-general, John Beverly Robinson, instructed to prosecute. The trials were conducted by Chief Justice Thomas Scott and Puisné Judges William Dummer Powell and William Campbell. Fifteen were condemned to death as traitors. On July 20, 1814, eight were executed at Burlington Heights and the remainder sentenced to exile. These trials became known as the "Bloody Assize".
Related Ontario plaque
William Dummer Powell 1755-1834
Related Toronto plaques
Sir John Beverley Robinson, Bart. (1791-1863)
Sir William Campbell 1758-1834
More
Information
More
War of 1812
More
Hamilton Plaques
---
Here are the visitors' comments for this page.
> Posted June 29, 2012
Adam Crysler was my 4th Great grandfather through his son John Edwin. It appears that his and Elizabeth's children were raised by others except for the two youngest who stayed with their mother, and they lived with her father Christian Warner. I would like to know if anyone has information as to who raised John Edwin who was six years old at the time.
Peggy Dalley Burlington ON.
> Posted May 6, 2012
Adam Chrysler is my 5th GreatGrandfather. The only article I have read indicates that his actions were harsher than the others. Written by Eva Elliott Tolan and in pencil the date is Oct 7 1958.
John Ramsay.
> Posted April 8, 2012
I am a direct descendant of Adam Crysler who was hung July 20, 1814. An excellent article on this case is by Dennis Duffy, in "Ancaster Eight" in Beaver magazine June/July 2000 (now Canada's History). Adam's son Roger, my great great grandfather, was 9 at the time of the hanging. His mother, Elizabeth Warner, had I believe 9 children to care for on her own after this terrible loss. Roger was "bound out" to a farmer and lived and worked on this farm until he was 21. He named one of his sons after this farmer so we think Roger was treated fairly well. Roger ended up being a successful man with 14 of his own children with his wife Caroline Mann. He died in 1874 and is buried in a beautiful graveyard (Evergreen Cemetery) in Lyndedoch, Norfolk County. Roger's great granddaughter Joan Sowden was my mother. Her married name was Joan Rogers. She lived until April 16th 2011, dying at age 89.
Carol Joan Rogers, Gananoque Ontario.
> Posted November 14, 2011
To the person who posted their great great grandfather was Adam Crysler. I am writing a play about the 8 men hanged at Burlington Heights and wonder if you have any more information on Crysler.
Thanks. lorilemare@bell.net
> Posted December 13, 2010
My 3rd great grandfather Garrett Null (Neill in some records) was found guilty 9 June 1814 and died in the Kingston jail, of typhus, 6 Mar 1815. Ken Heeter at kjheeter1@verizon.net
> Posted September 21, 2010
My Great....Great Grandfather was Adam Crysler who was hanged 20 July 1814.
Here's where you can write a comment for this page.
Note: If you wish to ask me a question, please use the email link in the menu.
Note: Comments are moderated. Yours will appear on this page within 24 hours
(usually much sooner).
Note: As soon as the comment is posted, a link to it will appear on the home page in the section "Here are the 10 latest plaque pages with a new comment added by a visitor to this site."