at ontarioplaques.com
Learn a little Ontario history as told through its plaques
Turkey Point
Photos by contributor Wayne Adam - Posted November, 2010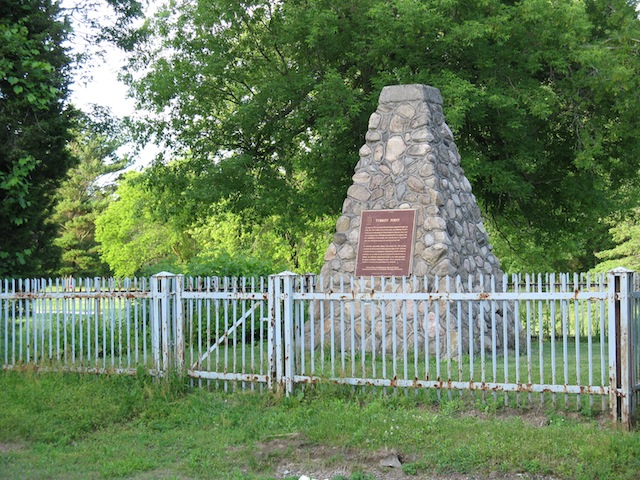 Plaque Location
The County of Norfolk
In Turkey Point Provincial Park
At a pull-out on the north side of an unnamed road to a golf course
1.0 km from the intersection of Turkey Point Road and
Front Road via east on Front Road then south on Old Hill Road
Coordinates: N 42 41.937 W 80 19.495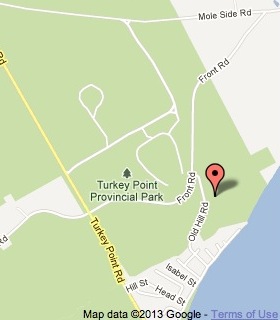 Plaque Text
As early as 1798, Lieutenant Governor Simcoe planned to fortify this point. By 1813 nothing had yet been done, and following Procter's retreat from Amherstburg the British decided to construct a navy yard and covering fort here. Difficulties in supplying the post, together with the unsuitability of the location led to abandonment of the project after only a blockhouse and part of a palisade had been built.
Related Ontario plaques
John Graves Simcoe 1752-1806
Fort Amherstburg (Fort Malden)
More
Military
---
Here are the visitors' comments for this page.
> Posted December 3, 2012
Turkey Point is one of the best experiences of my life. As a youngster in the '60s I scaled the hills behind the cottages and knew the trails running behind the sand hills like the back of my hand. I recall long hot summer days picking up discarded pop bottles on the beach to redeem for candy at Ferris' general store. As a footnote I remember being sent to Ferris' Store to pick up a morning paper. Upon seeing the headlines, I ran all the way back to our cottage on Harold Street....I knew Marilyn Monroe was a star and that my parents would be shocked at the news of her death. That was August 1962...fifty years ago...where does the time go ?
> Posted December 1, 2012
Turkey Point is one of the most amazing parks in Canada.. but if we knew more about its history it would be even more spectacular.
> Posted November 11, 2010
The official name of this place, as given by the Historic Sites and Monuments Board in 1925, is Fort Norfolk National Historic Site. It's curious "Turkey Point" was used for the plaque's title. Perhaps it was because the works weren't much of a fort. It's uncommon for the official name of a site to differ from its plaque title, but the discrepancy happens now and then. -Wayne
Here's where you can write a comment for this page.
Note: If you wish to ask me a question, please use the email link in the menu.
Note: Comments are moderated. Yours will appear on this page within 24 hours
(usually much sooner).
Note: As soon as the comment is posted, a link to it will appear on the home page in the section "Here are the 10 latest plaque pages with a new comment added by a visitor to this site."