at ontarioplaques.com
Learn a little Ontario history as told through its plaques
The Battle of Pelee Island 1838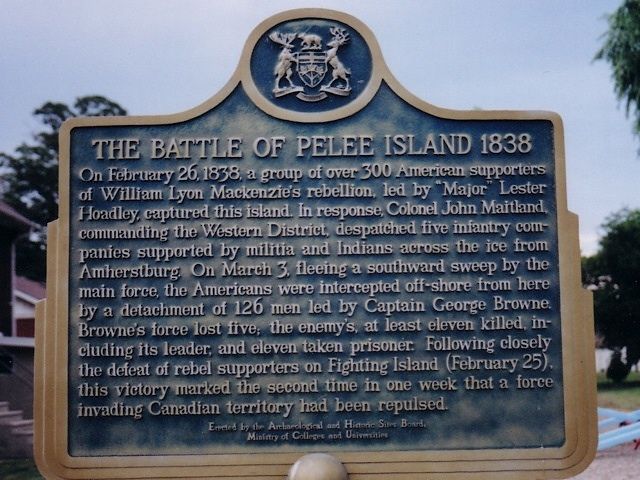 Photo by contributor Andrew Cresswell - Posted August, 2006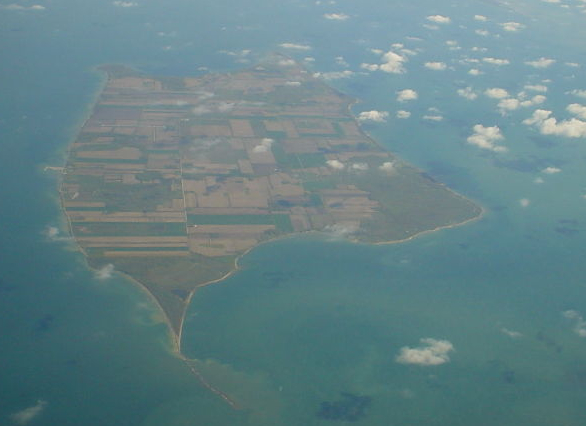 Photo Source - Wikipedia
Plaque Location
The County of Essex
The Township of Pelee
On Pelee Island, west of Scudder
at Pelee Island Public School, North Shore and Victoria Roads
Coordinates: N 41 48.496 W 82 40.574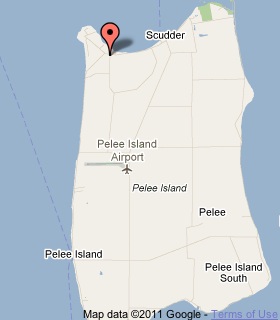 Plaque Text
On February 26, 1838, a group of over 300 American supporters of William Lyon Mackenzie's rebellion, led by 'Major' Lester Hoadley, captured this island. In response, Colonel John Maitland, commanding the Western District, despatched five infantry companies supported by militia and Indians across the ice from Amherstburg. On March 3, fleeting a southward sweep by the main force, the Americans were intercepted off-shore from here by a detachment of 126 men led by Captain George Browne. Browne's force lost five; the enemy's, at least eleven killed, including its leader, and eleven taken prisoner. Following closely the defeat of rebel supporters on Fighting Island (February 25), this victory marked the second time in one week that a force invading Canadian territory had been repulsed.
Related Ontario plaques
William Lyon Mackenzie 1795-1861
Fighting Island 1838
More
Information
More
Pelee Plaques
---
Here are the visitors' comments for this page.
> Posted December 20, 2012
This IS Canadian history. It took place in Canada. The place was called "Upper Canada" at the time. The word "Canadians" to describe the people of the area had been in use since the 1600s at least. There were Canadian troops involved and Canadian rebels involved. This is NOT British history. It is Canadian history with a British element in it. I am aware of the Act of Dominion in 1867 before you get onto that. That simply entitled the Canadians living in Canada to limited self-government. It did not suddenly create a new species of humanity or the place they'd been living.
> Posted September 24, 2012
Um, this is British history, not Canadian. Canada didn't exist.
> Posted September 8, 2010
"forced" are you for real?
> Posted April 30, 2009
History shouldn't be "forced" - Canada has an extremely colourful, adventurous and fascinating history. We should all insist on more 'force fed' lessons such as this.
> Posted October 28, 2008
Did you know people are actually forced to study this stuff in B.C.?
Here's where you can write a comment for this page.
Note: If you wish to ask me a question, please use the email link in the menu.
Note: Comments are moderated. Yours will appear on this page within 24 hours
(usually much sooner).
Note: As soon as the comment is posted, a link to it will appear on the home page in the section "Here are the 10 latest plaque pages with a new comment added by a visitor to this site."