at ontarioplaques.com
Learn a little Ontario history as told through its plaques
"Beautiful Joe"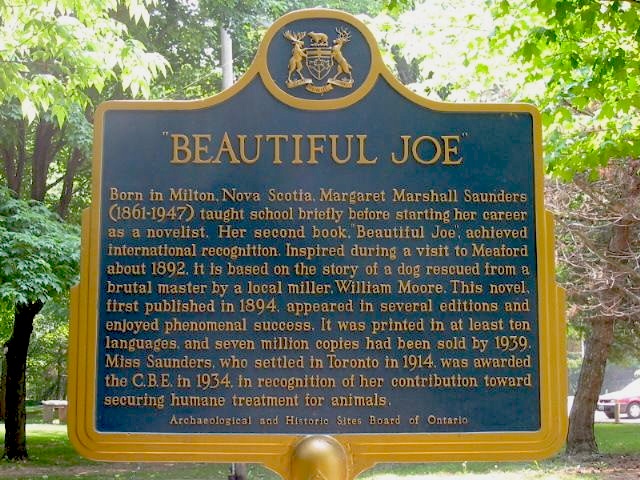 Photo by Alan L Brown - Posted June, 2005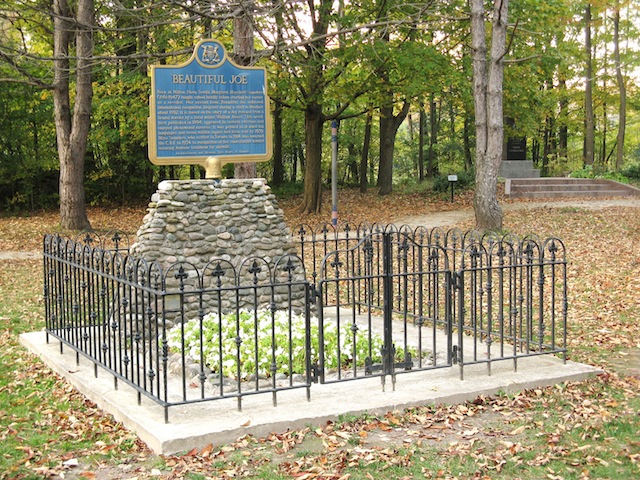 Photo by contributor Wayne Adam - Posted October, 2011
Photo by contributor Wayne Adam - Posted October, 2011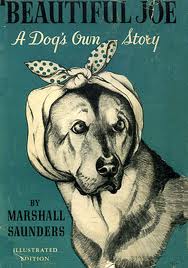 Photo Source - Wikimedia Commons
Plaque Location
The County of Grey
The Municipality of Meaford
To the left of the parking lot in Beautiful Joe Park
off Edwin Street near the bridge over the river
Coordinates: N 44 36.213 W 80 35.737
Plaque Text
Born in Milton, Nova Scotia, Margaret Marshall Saunders, (1861-1947) taught school briefly before starting her career as a novelist. Her second book, 'Beautiful Joe', received international recognition. Inspired during a visit to Meaford about 1892, it is based on the story on a dog rescued from a brutal master by a local miller, William Moore. This novel, first published in 1894, appeared in several editions and enjoyed phenomenal success. It was printed in at least ten languages, and seven million copies had been sold by 1939. Miss Saunders, who settled in Toronto in 1914, was awarded the C.B.E. in 1934, in recognition of her contribution toward securing humane treatment for animals.
More
Information
More
Arts
More
Meaford Plaques
---
Here are the visitors' comments for this page.
> Posted July 16, 2012
My Aunt Connie, my mom's sister from Ft. Meade, Florida gave me a copy of "Beautiful Joe" when I was a boy of seven or eight. I remember that once I started the book,I found it almost impossible to stop reading. I will be fifty-nine tomorrow, July 16th, but I have never forgotten the book, or its main character, Beautiful Joe. I was delightfully surprised to find that there is a sequel to the book. I have downloaded it on my tablet, and I am in the process of reading it now. I wish every kid in America's schools had to read these two books at an early age. I sincerely believe that much animal cruelty inadvertently done by young kids to animals might be be prevented if the kids understood that animals feel pain, disappointment, fear,and despair just as we do - only they must suffer in silence.
Clark Rich, retired English Teacher, Troup County Schools, La Grange, Georgia
> Posted March 26, 2012
I still my childhood book, sans covers. I never knew it was based on a true dog's life, and am so proud to say that it had a profound effect on my life. I am currently searching for another copy to supplement that one, so I can continue to share the heartening story of this beloved animal.
Barbara Warnes Lively
> Posted December 30, 2011
I read this book 55 years ago-I even formed a beautiful joe club with my little friends-I wish I had kept my copy-as I got older I began to think I had imagined it all-good to know I really did read it-and nice to now understand the story behind it!
> Posted June 15, 2009
This Story should inspire everyone that every dog and cats and animal is loyal to you no matter what.
> Posted June 7, 2009
This is a beautiful story. I enjoyed it very much and I am going to share it with other dog people.
> Posted November 25, 2008
I read this book as a child and loved it. I couldn't believe that someone could be so cruel. At the time I didn't realize that the book was so famous. I still own my copy from the 1960's.
Bonita Jackson
Here's where you can write a comment for this page.
Note: If you wish to ask me a question, please use the email link in the menu.
Note: Comments are moderated. Yours will appear on this page within 24 hours
(usually much sooner).
Note: As soon as the comment is posted, a link to it will appear on the home page in the section "Here are the 10 latest plaque pages with a new comment added by a visitor to this site."